Amanda Roscoe stares out the windows from the 27th story of downtown Pittsburgh's EQT Plaza building. Beneath her, traffic is stacked up on I-279, snaking across yellow steel bridges and in between the facades of PNC Park and Heinz Field. Her day has been filled with analyzing and organizing transportation schedules for EQT's fleet of natural gas delivery trucks; her evening will be spent catching up on readings about Pope Leo XIII's thoughts on economics, the nature of work, and the virtues of Catholic business leaders.
It's a busy, sometimes exhausting routine, but the 22-year-old Steubenville native wouldn't have it any other way. Five months after graduating with her BS in accounting from Franciscan University, she's not only working toward her MBA—she's thriving in the corporate office of a multibillion-dollar company.
Roscoe '18 is not only a product of Franciscan's Department of Accounting, Business, and Economics, she's one of the early success stories from the Business Advisory Board. Formed in early 2017, the board draws from experienced business leaders from around the country who both advise Franciscan's faculty members and mentor Franciscan's business students.
"One of the benefits we provide is cultural," says Doug Perry, chairman of the board. "In the business world, we move fast. What we provide is an outside perspective that assesses the needs of the students from a professional standpoint."
Perry, who serves as the vice president of Global Compliance at Honeywell International, explains that in business, especially, it's important students benefit from a curriculum that draws from real-world best practices and not just textbook theory. Practically, this means Perry and the Business Advisory Board review the key aspects of the Franciscan business curriculum, from suggesting case studies students review in their business ethics classes to making recommendations of experienced practitioners as faculty hires.
"Do we have the right curriculum to produce successful graduates that is also consistent with the Franciscan mission?" he asks. "Are we cutting edge and relevant? As part of that, we're looking at ways to attract and retain the best professors, and what's the best model to prepare students for success."
Far from being a high-level group of advisors who only interact with faculty, board members also actively help Franciscan's business majors with everything from communication skills-building to establishing professional networks.
"We try to help students in any way they need," explains Janet Owens '91 MBA '02, the director of Customer Experience at EQT Corporation and member of Franciscan's Business Advisory Board. "Whether it's with reviewing résumés, practicing interviews, helping them look for employment or internship opportunities—it's really about the students and what they're looking for."
In Owens' case, it's been about mentoring Roscoe, whom she met at a student meet-and-greet function organized by the board last April. Not only has Owens supported Roscoe's transition into EQT Corporation, she's also given the new graduate frank advice on how to navigate the business world as a woman.
"Janet has been a great role model for me and has showed me that confidence is huge in the business world, especially as a woman," says Roscoe. "I have always been a somewhat shy person, but Janet has been honest with me: That won't work if you want to succeed in a business environment. Because of that, I have learned to have more confidence in my opinions, skills, and ability to meet deadlines."
Dr. Thomas Kelly, chair of the Department of Accounting, Business Administration, and Economics, believes the board is a blessing to the department and to the University.  "The board gives us the necessary advice we need to help our students to succeed in the contemporary business world," says Kelly. "The board members also assist us in providing real internship and employment opportunities for our students."
To match current Franciscan students with business mentors, the board has been active in setting up a networking database that tracks each student and their professional interests. David Antonelli '83 MBA '88, who serves as the cost accounting and value flow manager for Pittsburgh-based Bayer Pharmaceuticals, explains the database helps students rapidly grow their network with business professionals from around the country.
"It's like a spider web," says Antonelli, who regularly hires Franciscan students for internships.  "I was talking to one student and told him, 'You're talking to me today, but when I leave here I'm going to go back and look at my log and tell you which businessman or woman in your part of the country or in your field of study you can talk to. You're going to get 10 people you can contact. And through those 10 people, you'll get another 10 people.
"I've never seen connections work so fast—it's almost outpacing me right now," he adds.
Aside from helping students secure internships and search for potential job opportunities, the department's advisory board members provide real-world experience and suggestions on how students can plan their future careers. For someone like Perry, who started his career as an associate attorney at Jones Day, it means counseling students to remain flexible and stay open to opportunities—even when they think they may have their entire future planned out.
"To be successful, you need to be flexible and willing to accept change," he explains. "I tell students: I didn't know what I wanted to do in college, and that's OK. Be open to where the Holy Spirit calls you and what doors open up for you."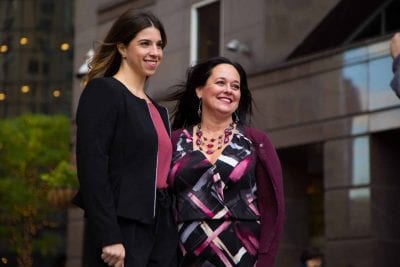 Like all the members of the advisory board, Antonelli shares a special connection with the University and a vested interest in helping the department graduate not just skillful business men and women, but well-rounded individuals.
"I've always felt like a family member here," says Antonelli, who returns to campus throughout the year to talk to students about networking and internships. "My career has been successful because of the education I received here. As I got older, I wanted to find ways to give back—everyone on the Business Advisory Board wants to find ways to give back to the place we call home."
Of course, no discussion of Franciscan's business programs can occur without framing the six majors in a Christ-centered atmosphere. According to Perry, the department's goal of "Bringing Christ to the marketplace" extends beyond giving Franciscan a differentiating factor when compared to other business programs. In fact, it sets the tone for an entire standard of doing business, from weighing career opportunities to embracing a higher standard of ethics in the boardroom.
"The culture here really is Christ-centered, and it makes a big difference," says Perry, whose wife, Heather (Prush), graduated with a BA in philosophy from Franciscan in 1996 and currently serves as president of the Steubenville-based Ad Gentes Mission. "Because you're not teaching why you need to be ethical, but starting from the standpoint of, 'Of course, we're going to be ethical.'
"Our ethics are pretty well defined by Christ and the teachings of the Church," Perry adds. "We have a set of standards we can turn to when we're confronted with a gray area. From that standpoint, Franciscan is in better shape than secular universities."
It's a standard embraced by both the board and Franciscan's business faculty. And, according to Roscoe, it's a theme that resonates daily in a real-world business environment.
"I'm always asking myself, 'Is this ethically correct?'" she says. "With every decision I make on the job, I ask myself, 'Is this the right thing to do?' And I attribute that to Franciscan."
For information about the Department of Accounting, Business, and Economics, visit franciscan.edu/departments/acc-bus-ec/.
Meet the Business Advisory Board