Because of the very broad core program at Franciscan, Franciscan students have the opportunity to take classes with a wide variety of professors from different departments. Within my first semester, I knew there was something very special about this group of people who have dedicated themselves to the education of their younger brothers and sisters in Christ.  So what is it that makes them the best?
They are family oriented.
Not all of them are married with children. Some are single and others are religious. But those who are parents love sharing stories about their children and talking about how much they love and adore them.
But those who aren't married still hold to their family values and the truth that a family is the foundation of forming young disciples.
They are masters of their studies.
The Franciscan University factbook says that 81% of the faculty holds the highest degree in their field. Every professor that I have had bring their experience of the professional world in their field and their knowledge from the higher level studies into their classrooms.
They care about their students.
Students get to know their professors as teachers and as mentors. I have been to professors' houses; I have played with their children. If students open to them about difficulty at home, exciting mission trips, happenings around campus, the professor never forgets it. I once told a professor that I was the editor of the school paper, now every time I see him, without fail, he asks me how the paper is going.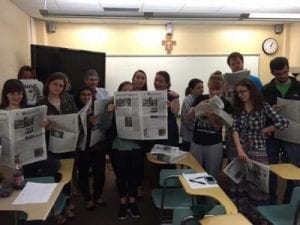 I don't have to doubt whether what they teach is in line with the Church.
At the beginning of the year, every new professor takes an oath of fidelity to the Church with the Bishop of Steubenville (a successor of the apostles themselves) as a witness. Everything that the professor teaches as truth is in line with the church regardless of what department the professor teaches.
This does not mean that Franciscan students are completely sheltered from ideas and opinions other than Catholics. The professors are good teachers. They share the positions and logically explain why the church is in line or not in line with the position. Students are still able to comprehend the various ideas for themselves.
They attend school events.
It's not uncommon to see a professor at a sports event with a Barron hat on, or at a campus talk after classes are long over. It's always a lot of fun to see professors in their "dad jeans" chasing after their small child near the bouncy castles at the St. Francis fest, or seeing them more dressed up than usual at the Easter Vigil every year.
They act as a bridge between the town and the school.
It's so easy for Franciscan students to stay in the bubble that is the university. We are situated on a hill and getting to town can be tricky. But most of the faculty lives in town and are part of the town community and parishes.
It's not uncommon for a professor to make a side comment before or after class along the lines of, "Have you guys been to (insert small business in town name here)? I went last night and it was so (insert positive adjective here)."
It's because of a Franciscan professor that I know about the Nutcracker Village in town during the Christmas season and which Italian restaurant is the best one to eat.
No two professors are the same.
Every professor has a different story. Some were raised Catholic, others are converts, others are not Catholic at all. They come from all around the country, and in some cases, all over the world.
Each of them run their classrooms differently and it's nerve-racking at the beginning of the semester trying to figure out what to expect of their exams and lectures, but it teaches students how to adapt to new situations
They hold the school's mission.
But I learn more that way. The school aims to be "Academically Excellent, and Passionately Catholic." I already addressed the second part in number four.
I'll be the first to admit, Franciscan is not an easy school. My classes and the amount of work I must put towards each one is tough. The professors know that, so their expectations are high. It's easy for them to tell who isn't putting the work into school that they ought. They want students to graduate knowing all that they can about the world around them and will put everything they can into preparing them for that.
The effort they put towards their work is very clear.
With a lot of other universities, some professors rely heavily on their TAs in their classes. Not Franciscan. Each faculty member teaches every class that they are in, and if they cancel class or have a substitute, it's because they have a very legitimate reason.
But they write their own tests, grade each of their students' papers, prepare their own lecture. Some of them have written textbooks specifically for certain classes if an adequate textbook is unavailable.
They take the best selfies with their students.
For some students, it's a goal to take selfies with their favorite professors at the end of the semester or at graduation. These pictures are often hilarious and awesome.
While in Rome during my Austria semester, one of the professors was giving a tour of the major sites in the city. While in the Pantheon, she was describing the ceiling and how it architecturally helps fill the room with light. We all decided to lean our heads together for a selfie with the ceiling and invited her in. In the picture, you cannot see the ceiling, but you can certainly tell that we are having a blast together.