If given the option, would you rather read a novel or a graphic version of the same novel? Do you believe that graphic novels carry the meaty substance that other literary works can? Many have believed that comics and graphic novels are literary fluff, something students can read for fun in Sustained Silent Reading (SSR) class, but what has been discovered is that including graphic novels into curriculum and substituting them out for traditional text- reluctant readers, English Language Learners, struggling readers and that all students can take away critical reading skills, as well as diversify curriculum and provide cross-curricular connections.
Many educators have worked with reluctant readers- students who do not show interest in reading- maybe you are not an educator but have a child who resists reading, or maybe you found it hard to sit down and become invested with the text. Teachers of reluctant readers have found that graphic novels get reluctant readers reading, which is half the battle. Graphic novels have a third of the text per page than a typical novel which makes the task of reading more accomplishable. This sense of accomplishment is key to getting students hooked on reading. When students can read a graphic novel in under a week, they are much more likely to pick up another book, explore more challenging texts and other genres. This is the goal when working with reluctant readers.
Learning new languages is hard for many, for students who come into our classrooms speaking another first language, reading at grade level is an incredible challenge. The greatest worry for educators working with English Language Learners (ELL) is the development of vocabulary, left to right reading sequencing, word/sentence comprehension, decoding and comprehending texts. Graphic novels address each of these areas of concern, mostly because incorporating illustration with nearly every line of text scaffolds the word/sentence comprehension and decoding. Being able to reference the images to predict what the text is saying helps ELL students read at a more desirable speed and builds confidence in their reading ability. We hope that all of our students gain confidence in their reading ability, but especially students who are learning English.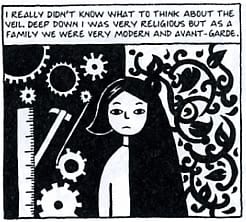 The sign of a well-constructed literature lesson is the cross-curricular connections made. Being able to connect content from other areas creates diverse student understanding. For example, Marjane Satrapi's Persepolis is an autobiography of the Iranian revolution of the 1980's works well to tackle difficult content such as morals and ethics. Using Marjane's graphic autobiography crosses content areas from literature, history, political science, philosophy, theology, and ethics. Getting students to read beyond the text is the ultimate goal of teaching literature.   
Jumping point into literature for reluctant readers

Graphic novels can break the ice for reluctant readers by making the reading process more enjoyable

Literary icebreaker for English Language Learners

By incorporating high frequency of images that support the minimal text,
supports helps ELL students when decoding and comprehension

Diversify curriculums

Creating connections between the text and other content areas creates a chance for deeper understanding
If given the choice, would you choose a normal book or a graphic novel if given the chance?