A requirement of my pastoral counseling class was to commit to a spiritual exercise during the semester in order to grow in our faith lives, as this is the foundation for all we do in pastoral counseling. At the beginning of the semester I was excited to be able to do this assignment. I wanted to commit to a Holy Hour every week, and hopefully add a couple more Holy Hours when I was able. Like most things that I try to incorporate into my life, this lasted for a couple of weeks; things went well for a while. But then, as usual, I got too busy and didn't meet any of my goals.
I now have to write a paper about a commitment that, to be honest, I didn't fulfill by my own standards. For the record, I did the assignment (I know my professor will be reading this blog, so I need to make sure I don't dig myself into a hole). I completed two or three recommended tasks that I could write about. But since I didn't fulfill my original goal, I feel like I cheated myself.
I have come to realize this is a consistent pattern in our lives. We set goals, but then get so caught up in life that we are unable to meet them. Afterwards, we feel discouraged because we failed. This is especially true when it comes to developing our relationship with God on this campus. It's easy to compare ourselves to what we see others doing.
Oh, you're walking across campus praying a Rosary?  Why am I not doing that?
You go to daily Mass?  I should do that too!!
You're praying another Novena to St. Joseph?  Well, crap. My faith life seems so shallow compared to everyone else's.
Sometimes we just feel like we've let God down.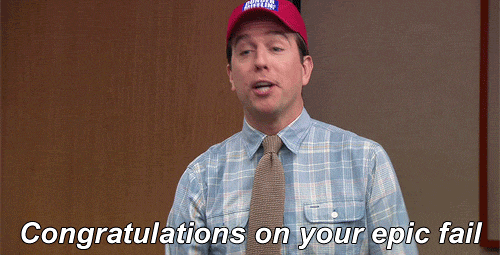 But as I began reflecting on my spiritual life this semester, I realized that I was trying to put myself into a box. I was trying to pray all of these devotionals and felt awful when I didn't accomplish them. I was so concerned with taking time out of my day to pray that I was not incorporating prayer into my busy, hectic life. Because let's face it: LIFE IS BUSY. We are running around all the time with work to do, deadlines to meet, friends to see, and apartments to clean. Some days, we aren't going to be able to pray our daily or weekly devotionals. Some days, we're going to miss daily Mass or a Holy Hour. Some days, we're only going to be able to pray one decade of the Rosary instead of five. Some days we are going to forget to pray our novena prayers.
Now, this doesn't mean that we stop praying our devotionals because sometimes we won't pray them. Devotionals are very important and ground us in our relationship with God. But sometimes I think we focus too much on the devotionals and not enough on incorporating prayer into our daily lives. Sometimes, I think we emphasize incorporating prayer into our schedules rather than integrating it into our lives.
We are to pray without ceasing as St. Paul says. But, if we limit our prayer lives to our devotionals, or rely on devotionals as our sole source of communication with God, we will naturally cease praying when the act of the devotional has ceased. Our prayer needs to extend beyond that. Our work should be done in communion with the Lord. Our meals should be eaten with a spirit of thanksgiving. Even the music that we listen to should move us closer to God. And yes, self-care is also something that we should do with the Lord. Every little thing that we do in life has the potential to be made into a prayer without having to take time out of our day to do it.
When our lives become super busy or we get sick and miss our scheduled prayer times, we should still find ourselves praying in the midst of that which we are undergoing. Our prayer lives will change with the circumstances that we are in and the vocations we are living out. This was not something I accounted for when making my original goal of a Holy Hour or three every week. But missing those special prayer times shouldn't completely take us off course since we are still praying, regardless of whether we are able to devote that time to the Lord this week or not. We should still persevere in making those special times, yes. Those special prayer times are needed to listen to God. But if we go through a period where those times are few and far between (not due to laziness on our part), it's okay to adjust our spiritual lives accordingly until we can get back to a place where we can devote more of ourselves to the Lord. This is why having that constant interior prayer is so important. So even though I may not have met my original goal, I gained a much better sense of my spiritual life in the reflection process.
As pastoral counselors, this constant interior prayer is extremely important to foster. Counseling is not an easy vocation and it requires a lot from us. Having back-to-back clients leaves little time for devotional prayer (or paperwork for that matter). But when clients approach us with similar problems of being too busy and overwhelmed by life, we will be able to assist them in how to proceed, all the while praying for them during the process and asking the Lord for the gifts of discernment, knowledge, and wisdom to better serve them.